---
Japan India Seminar at Chennai
---
The Center of the International Cooperation for Computerization (CICC) and Centre for Development of Advanced Computing (C-DAC)will be conducting half a day seminar on October 26th Friday afternoon at Chennai to promote strategic and comprehensive cooperation in Social and Public Information systems especially in the areas of biometrics, e-education, and e-government. Through this seminar, CICC would like to identify potential partners for further discussions. This event will also help in establishing a project structure for cooperation between Japanese and Indian organizations.

In Japan, there are social and public information systems in place based on excellent technology and CICC would like to share their experience. CICC maintains a tight cooperative relationship with those governmental agencies and the organizations in Asia. Since 2004, CICC has conducted research related to the potential for implementing systems, targeting Asian Countries. Some of the cooperation projects implemented are Geographic Information System (GIS), Biometrics Technology (Finger & Palm Vein), Decision-Making Support for Electrical Power Distribution System and Intelligence Transportation System (ITS).
Date
26 October 2007, Friday noon
Venue
Hotel Taj Coromandel

37, Mahatma Gandhi Road

Nungambakkam

Chennai - 600 034

India

Tel: (91-44) 6600 2827 Fax: (91-44) 6600 2089
Program
13:00 to 14:00
Registration followed by Lunch
14:00 to 15:00

Opening Session:
Welcome address
Introduction to Seminar by CICC
Key note address on Public Information systems
Japan & India IT cooperation
Vote of Thanks

15:00 to 15:15
Tea break
15:15 to 17:30
Three Presentations on Thin client computing, Palm vein security and IT tools for training by three Japanese firms NEC, Fujitsu and Hitachi.

Presentations will cover:

Brief on Technologies relating to these topics
Successful implementations
Product demonstrations
Structured Q&A
Discussions
Event Photo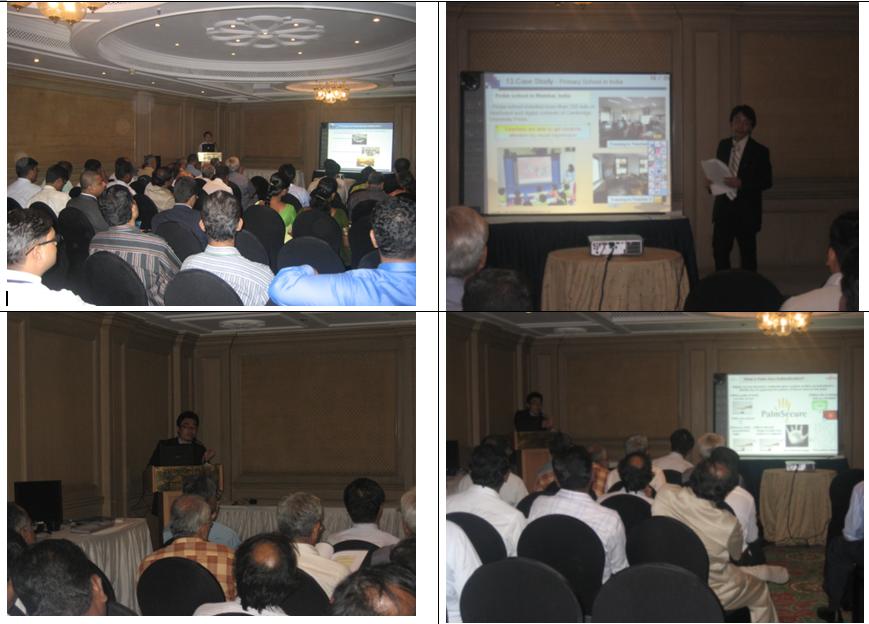 Brief on Organizations
The Center of the International Cooperation for Computerization (CICC) is a non-profit organization founded in June 1983 under the auspices of Ministry of Economy, Trade and Industry (METI) of the Japanese government, with substantial support from many other organizations and companies. CICC was established to cooperate and assist Asian countries in the introduction of computers and information technology, and to promote computerization thereby for their economic and social development. CICC headquarters is located in Tokyo and CICC also has overseas offices in Singapore and Beijing.
The Centre for Development of Advanced Computing (C-DAC), is primarily an R & D institution involved in the design, development and deployment of advanced Information Technology (IT) based solutions. In a little over a decade since inception, C-DAC has developed and supplied a range of high performance parallel computers, known as the PARAM series of supercomputers. Over the years, C-DAC has diversified its activities to address requirements in various areas, consequently, our expertise also extends to other advanced areas of Information Technology, enabling IT based solutions in areas like Financial and Capital market simulation and modeling, Network and Internet Software, Healthcare, Real Time Systems, eGovernance, Data Warehousing, Digital library, Artificial Intelligence and Natural language processing. C-DAC's Advanced Computing Training School (ACTS) is dedicated to creating high quality manpower for C-DAC in particular and the IT industry in general through the designing and delivering various courses.
Japan and India co-operation
Japan and India two of the largest democracies in Asia, have continued to develop friendly relations founded on a long history of exchanges. With a view to further enhance their friendly cooperative relations, both countries agreed to the Japan-India Global Partnership in August 2000 and the two countries issued a joint statement called the "Japan-India Partnership in a New Asian Era".
Bilateral trade figures have continued to remain positive and Japan is among India's top five trading partners. Total trade between India and Japan was close to $ 6 billion in 2005-06. India's service exports of software to Japan have grown dramatically in recent years, marking a 65 percent increase in 2005 alone. As engagement between the two countries increases, the year 2007 has been declared the Indo-Japan friendship Year. Japanese FDI into India during 2005-07 has been to the tune of $ 1.8 billion. The equity investment from Japan into India is also on the rise, touching almost $ 4.9 billion.
India's interest in Japan is also attributable to its "look East policy". To deepen economic relations between Japan and India, it is important to bolster comprehensive cooperative relations in a wide range of sectors besides trade and investment, such as information technology, science and engineering technology, energy, environmental protection, and people-to-people exchanges.
Chennai
Chennai formerly known as Madras is the capital of the Indian state of Tamilnadu. With an estimated population of 7.06 million (2007), it is the fourth largest city in India. Chennai is the third largest commercial and industrial centre in India. A great deal of industrial expansion has taken place in Chennai recently, with the mushrooming of engineering plants, car-assembly plants, educational institutions, and textile manufacturing units. It is becoming automobile capital of India, home to a major percentage of the country's automobile industry. Chennai is the second-largest exporter of information technology (IT) and information technology enabled services (ITES) in India, behind Bangalore, and is a base for the manufacture of hardware and electronics, with many multinational corporations setting up plants on its outskirts. The city is served by an international airport and two major ports; it is connected to the rest of the country by five national highways and two railway terminals.
---
| | |
| --- | --- |
| For more information, Please contact | |
---
Click for Asia OSS Training Program home page