---
Asia OSS Master Trainers Workshop, September 2006, Singapore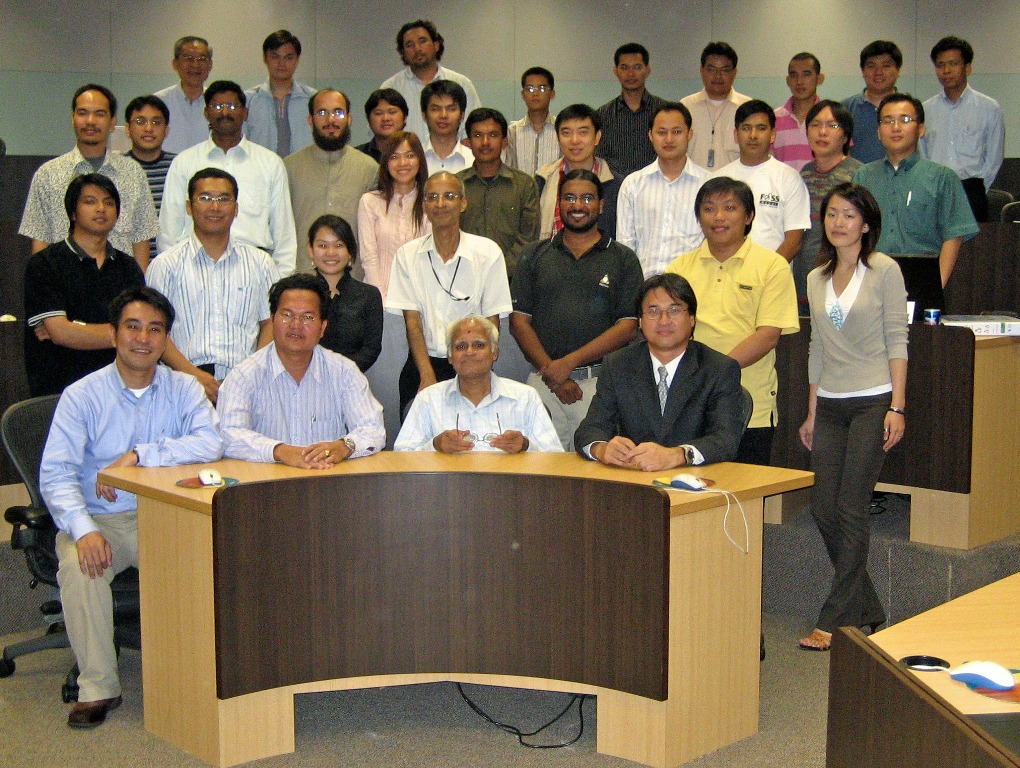 Program
The Center for International Cooperation for Computerization (CICC) conducted the 1st Asia OSS Master Trainers Workshop with School of Information Systems (SIS, Singapore Management University (SMU)from September 11th to 15th, 2006 at the SMU city campus. This workshop is funded by Ministry of Economy, Trade and Industry (METI), Japan.

Duration
Five days, September 11th to 15th, 2006
Venue
Executive Media Room
Administration Building
Singapore Management University Campus
81 Victoria Street, Singapore 188065
No. of participants:
45 participants from 14 countries
Accommodation for oversea participants:
Oxford Hotel Singapore
218 Queen Street, Singapore 188549
Tel: (+65) 6332 2222
Dress code:
Informal and no need for tie and jacket
Result
The main objective of this workshop is to Identify and Develop Master trainers for Asian OSS training community (AOT). It was almost attained through the workshop. Master trainers are OSS practioners, who can initiate, develop and implement training programs in their countries. Through the workshop, Master trainers tested and improved the OSS course material to be available to each country of the Asian region. Participants also noticed the importance of voluntary and sustainable OSS training program in each country.

Master trainers are expected to support and help in conducting Asia OSS training programs in their countries.
List of participants
45 participants from 14 countries will be attending the workshop. Ten students from SMU also attended some of the sessions. List of participants is gien below:
| | |
| --- | --- |
| Nationality | Name |
| Bangladesh | Arup Ratan Barua |
| Cambodia | Ros Seyha |
| | SHOUNG NOY |
| India | Mathrubutham |
| | R.M. Suresh |
| | Shuvam Misra |
| Indonesia | Budi Hermawan |
| | Budi Susanto |
| | Sasana Pramedhi |
| Japan | Kazuhiro Ooki |
| | Kenichiro Arakaki |
| | Masato Kubota |
| | Nami Imanishi |
| | Toru Yamauchi |
| Malaysia | Chua Soo Yaw |
| | Lee Siang Fong |
| | Megat Zainurul Anuar Megat Johari |
| | Mohd Hidzuan Bin Zainul Hashim |
| | WONG KIN YEW |
| Myanmar | U ZAW MOE TUN |
| Nepal | Subir Bahadur Pradhanang |
| Pakistan | SUFYAN KAKAKHEL |
| Philippines | Eric Manuel N. Pareja |
| | Jaime Sebastian |
| | Joseph Syjuco |
| Singapore | Agnes Wong |
| | Chhoa Kiat Lim Thomas |
| | Hoang Phi Nguyen |
| | Lee Yeow Leong |
| | Lim Kin Chew |
| | Lim Swee Tat |
| | Lim Thye Peng |
| | Narayanan |
| | Sanjeev Gupta |
| | Simon Lau |
| | Stephan February |
| | Thi Doan Chi Tran |
| | Zi Yang Yan |
| SriLanka | Suchetha Wijenayake |
| Thailand | KRICH NASINGKUN |
| | Somphol Boonjing |
| | Suphanut Thanyaboon |
| Vietnam | DO DUC THANH |
| | NGUYEN PHI KHA |
| | PHUNG CHI DUNG |
Topics covered during Workshop
Theme
Topics
I General Track

Workshop Philosophy
Licensing and copyright issue
Open Protocols and Standards
Project Management
Course Design and lesson evaluation
Certification schemes
Soft Skills
FOSS Master Plan.
Initiation of Development of Test Banks
Development of Hands-on Sessions

II Operating Systems Track

Using the Linux Desktop and Locating Linux Help Resources
System Administration
The Unix Shell
Linux Internals
SUSE
Thin Client using OSS
Windows to Linux Migration

III Security and other OS Topics

Bluetooth
OSS Network - Proxy.gateway
Linux Security
Firewall Design/ OpenVPN/ OpenLDAP
Intrusion Detection System
Squid, IPCops

IV AMP and Programming Languages Track

PHP
PHP - Framework
Apache Configuration
JAVA in a nutshell
Ferite Open Source Programming Language
HTML and Java Script
Ruby on rails

V Applications Track

Open Office
Electronic Documents, Internationalisation & localisation and UNICODE
Building an OSS Telephone System
Blended Strategy
OSS Case Study (India)
OSS developments in Sri Lanka
---
| | |
| --- | --- |
| For more information, Please contact | |
---
Click for Asia OSS Training Program home page