Who is Guru or Teacher?
The relationship between Master-Disciple or Teacher-Student, is given importance in many Asian traditions. This relationship is even glorified.
Teacher is not any special person with paper degree or qualifications or titles. Any person or from whom, you can learn (either by instruction, example or observation) is a teacher.
Teacher can belong to any race, tribe, country or religion, and it can be even an object.
Experience is the best teacher.
"guru" means "the one who points", like a signpost by the roadside. It is important for you to understand things for yourself. Teacher will just show you the way and you should undertake the journey of learning. So you have to be your own teacher and your own disciple, and there is no teacher outside.
It is important for you to know or understand things for yourself. You cannot experience/realize it through another person.
1. If you know more, teach them, who know less.
2. If you know less, there is need to learn from who know more or have better understanding.
3. Lazy or people refusing to learn, can not be helped.
4. Do not die with your knowledge, But share and transfer know how and skills to others who want them.

Experiencing or understanding is more important than reading or listening from scholars. What one digests matters than what one eats.
No one is really a teacher? May be a teacher cum student. We are all learning or students (from each other)
AOSS Model
Asia OSS Technology Program, a sixteen country network, was initiated by the CICC Singapore office. The aim was to create a large number of OSS professionals to teach/spread/support OSS in South and South-east Asia. During this program importance of voluntary contribution and need for sustainable OSS training and promotional program in each country is stressed.
Major output was "AOSS Learning Model". It is a resource efficient and partnership model for community by community. More than 100 events have been conducted for AOSS community using this model.


All are learners - working to learn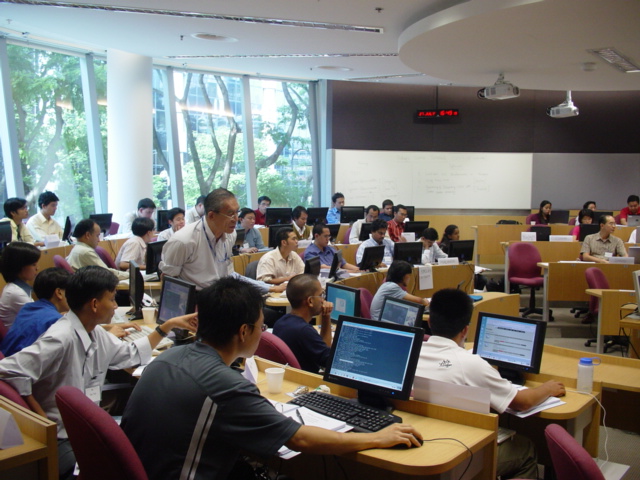 All participants helped in making training materials and conducting training programs.
Workshop and training programs stressed on, "learning more by doing rather than listening".
OSS is all about sharing. Everyone brings something and shared among all. So, knowledge multiplied.
Every one is a student and a teacher. This supports active participation.
There is no set method or structure for instruction and flexibility in curriculum.
Communities of practice - Common tasks; shared goals; and importance for group work
Personal experience contributes to understanding of concepts and course contents
Learners come up with their own ways of problem-solving.
Open-ended discussion and individualization to address unique needs.
learners are also teachers - no age bar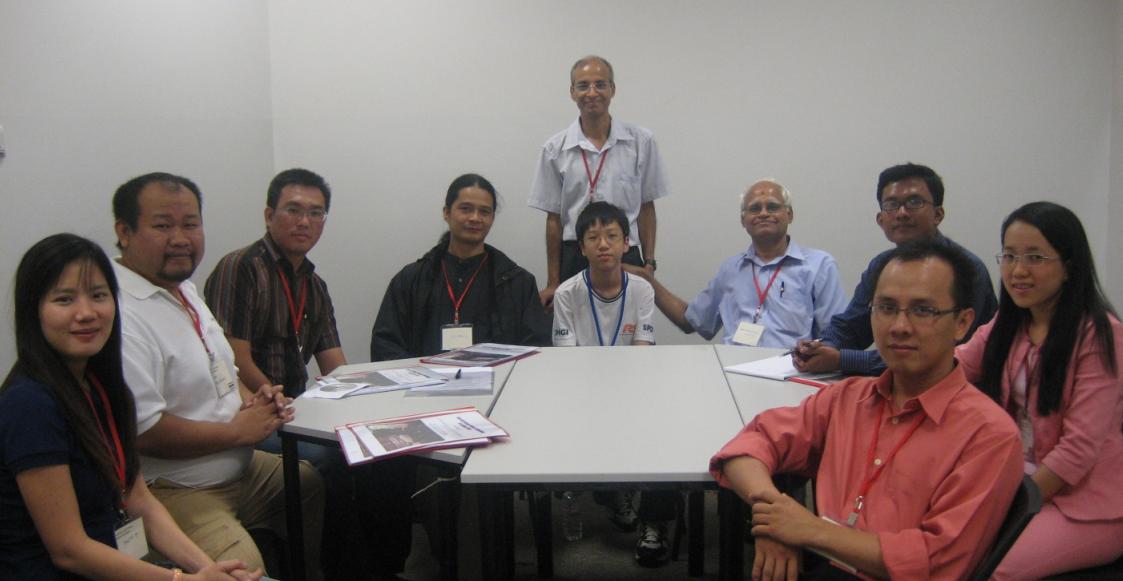 Conventonal Teaching

Teacher-centered
Instruction/presentations
Lecturer
Professor/Tutor
Focus on Knowledge
Exams and Tests

AOSS learning paradigm

Learner-centered
Assignments/Projects
Trainer
Coach/Facilitator
Focus on Skills
Solutions to some of the identified problems
Good learners
A good learner is one who:
has confidence in their ability to learn and trust in teachers and the system;
comes prepared and makes full use of instruction time.
begins with being present physically and mentally;
listens carefully. listens, even if he or she disagrees.
actively listens, thinks and responds.
always tries and not fearful of being wrong
is willing to work hard.
enjoy solving problems. Not expecting an absolute, final, irrevocable resolution to every problem. More interested in the process of learning
interacts with other students.asks questions, any questions.
enthusiastic and need not be smart. never stops learning. open to new ideas and able to question his/her own beliefs.
very flexible to learn in any situation, under constraints and difficult situations (in any environment)
share what they have learned. Unless Knowledge is passed on, knowledge is lost.
Good student
possesses the ability and willingness to learn new subjects even the subjects are not interesting.
Ability to read comprehensively, to write effectively, to speak fluently, and to communicate clearly
ability to apply the results of learning in to a creative way and achieve the goals.
can interpret and perceive right meanings from lectures/presentations. (no misunderstanding and deriving wrong conclusions).
Discipline in managing the time and completing assignments, reading and other required tasks to achieve the goals.
Understanding rather than memorizing concepts
Good Teacher
"A good teacher is conductors and the class is their orchestra. All students play different instruments and at varying proficiencies. A teacher's job is to develop skills and make these instruments come to life as a coherent whole to make music.
Each student is unique and every class is different.
Being human, respecting others, and being professional at all times. A good teacher is compassionate.sensitive to that and adjust accordingly. Empathetic– Being sensitive to a student's struggles even though you may not personally be able to relate to them.
Inspirational – The ability of a teacher to get their students to buy into, believe in, and to be motivated to become life long learners.
Listening, questioning, being responsive, and motivating students to learn. Also teach them how to learn.
Having a passion for the subject, and conveying that passion to students.
Treating students as consumers of knowledge.
Bridging the gap between theory and practice. Practical in the field. Talking to, consulting with, and assisting practitioners, and liaising with their communities.
Being flexible and can react and adjust to changing circumstances. Adaptable – Making changes to lessons or activities on the fly because of an unforeseen situation or problem.
Entertaining? Humor, fun, Joyful – Coming to class each day in a good mood, excited, and enthusiastic about doing your job.
Prepared for hours of grading, designing or redesigning courses, and preparing materials to further enhance instruction. Accountable for results.
Creative – Taking a concept and shaping a lesson that is unique, engaging, and dynamic.
Dedicated – Showing up everyday and spending the necessary time to provide your students with the best education.
Determined – Finding any means necessary to reach all students no matter the challenge. The determination to overcome any obstacle
Evolving – A continuous process of year over year improvement and growth. A teacher must continuously look for ways to improve themselves as well as individual lessons or components of lessons. Try new ideas
>Patient and Forgiving – Quickly putting incidents with student, parents, or other teachers behind you so that it does not impact your teaching.
Trustworthy – The ability to get others around you to believe in you and what you are doing.
Organized – The ability to keep things neat and in order allowing teachers to access materials quickly and to make efficient transitions.
Resourceful – Finding a way to make things happen.
---